Next Meeting
Monday, August 9th, 2021
Kaufman County Library
3790 South Houston Street, Kaufman, TX 75142
April is my favorite month for KCRW because it is the month of our Membership Tea! I remember attending my first membership tea as a new member of KCRW and how exciting it was to be a NEW member of such a great club. Then the following year, I had the honor of becoming the Chair of our membership committee and it was MY responsibility to coordinate this wonderful event and I was so excited and nervous at the same time! Last year was my first year as president of KCRW and although we were not able to have our tea last year, I continued to look forward to 2021 when we would be able to host this amazing event again and now the time is FINALLY here!!!
TFRW has a goal of 11,000 members by June (convention cutoff date) and we have our own goal of 61-100 members (large club status). I truly believe that this is attainable! The women are there. We just need to invite them, remind them, and let them know how vital they are!
I know 2020 was a hard year for many reasons, but we must look forward and believe that 2021 can and will be better! Our TFRW President reminded us this month, that hard times create strong men (and women), and create the opportunity for greatness. I challenge each of you to be strong, to be leaders for our party, for our community and for our club!
Thank you for the honor of serving you as KCRW President!
LOCAL ELECTIONS
Early voting for local elections (school board and municipal) begins on April 19, 2021, and election day is May 1, 2021. Remember to vote and bring your friends so we can elect conservative Republicans to these important offices.
UPCOMING EVENTS
NEXT MEETING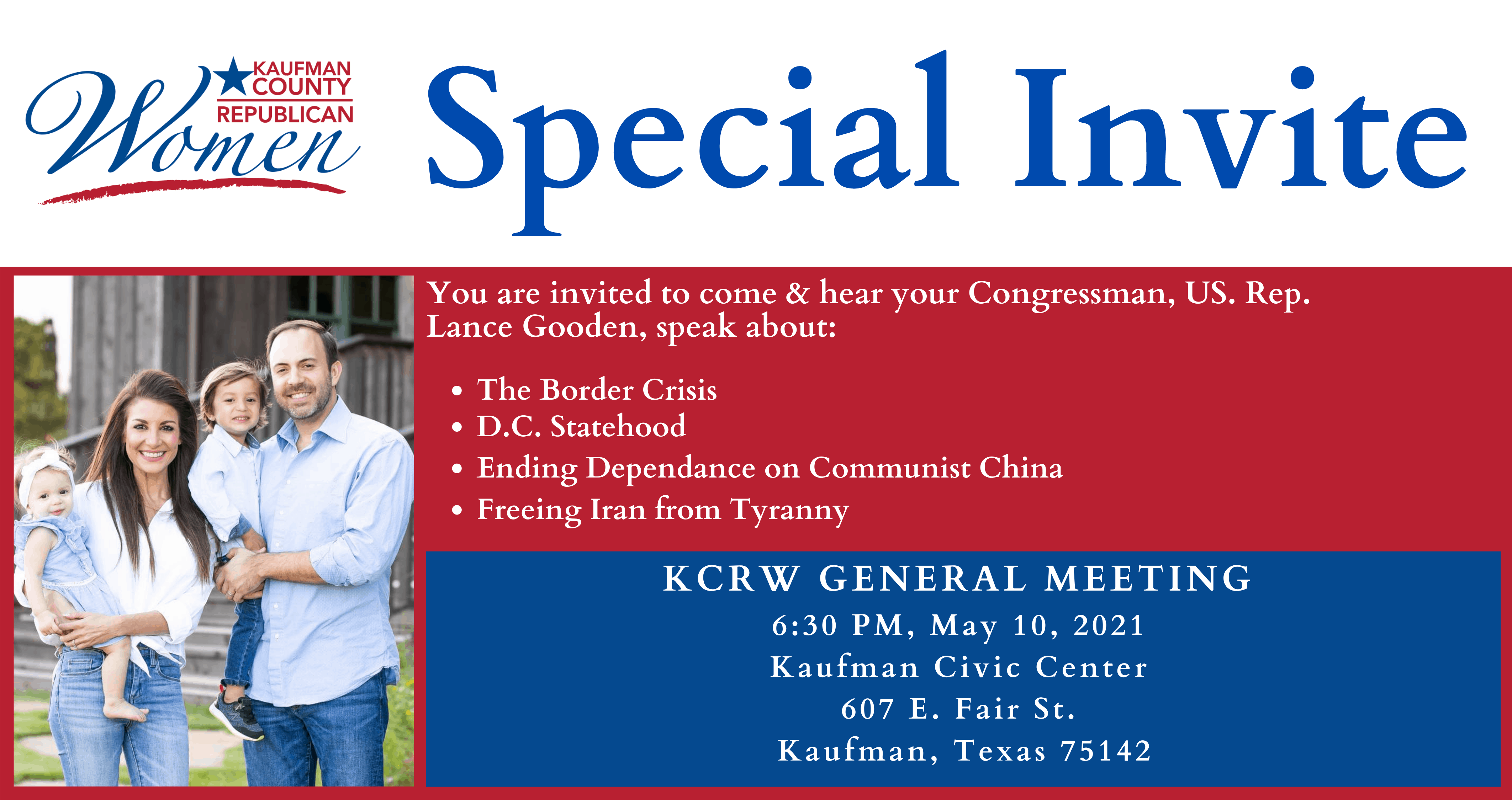 JUNE MEETING 
No Scheduled Meeting at this time
JULY MEETING 
No Schedule Meeting at the time
Legislation
Resources
Becoming a Legislative Advocate – This PowerPoint presentation is available to TFRW members and clubs for basic training on how to effectively advocate for legislation in Austin.
TFRW Online Legislative Research – This tool is provided as a service to our members. Includes links for online legislative resources to enable you to follow the Texas Legislature more easily.
House Research Organization – The Texas House of Representatives Research Organization provides detailed information on "How a Bill Becomes Law" (updated for each legislative session), "Writing the Budget" and a lot more.
Who Represents Me? – A link to a tool hosted by the Texas Legislative Research Library that allows you to look up information on your legislators and certain other elected officials.
Standing Committee's
Committee Sign ups!
If you are a member and would like to be involved or learn more about our cause, future events, fundraisers, etc., please contact the chairperson for which committee you are interested in below!
Membership: Gail Brand- gbrand36@yahoo.com
Finance: Erleigh Wiley- erleighn@yahoo.com
Historian: Deborah Bonner- dembonner@yahoo.com
By Laws: Karen Badgley- karenbadgleylaw@gmail.com
Parliamentarian: Linda Sewell-lindahsewell@yahoo.com